Remarkables (Paperback)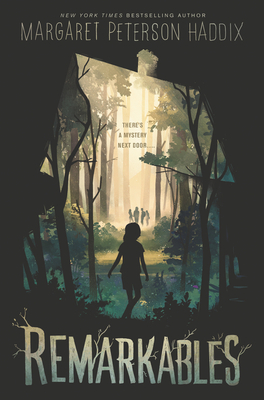 $7.99
Email or call for price.
Description
---
New York Times bestselling author Margaret Peterson Haddix, the master of cliffhangers, delivers a pulse-pounding mystery perfect for fans of Jacqueline West and Kat Yeh, full of secrets, surprises, and the power of family. Now available in paperback.
One minute they're there: laughing and having fun at the house next door. The next minute, the teens are gone. Like magic. Marin can't believe her eyes. Who are they? Can anyone else see them? What makes them so happy?
Marin is lonely in this new town of hers and eager to figure out more. Then she meets Charley, who reveals that he knows about them, too.
He calls them the "Remarkables." Charley warns her to stay away from the Remarkables—and him. Charley and Marin both have painful secrets they're holding on to, but could solving the mystery of the Remarkables help them both?
In addition to building an intriguing world filled with mystery, Haddix also grounds the story with real issues that many children face. Characters deal with the complexities of bullying, the guilt children experience when parents have addiction issues, and the uplifting power found in strong families of all shapes and sizes.
About the Author
---
Margaret Peterson Haddix grew up on a farm in Ohio. As a kid, she knew two girls who had the exact same first, middle, and last names and shared the same birthday—only one year apart—and she always thought that was bizarre.
As an adult, Haddix worked as a newspaper reporter and copy editor in Indiana before her first book, Running Out of Time, was published. She has since written more than forty books for kids and teens, including the Greystone Secrets series, the Shadow Children series, the Missing series, the Children of Exile series, and lots of stand-alones. Haddix and her husband, Doug, now live in Columbus, Ohio, where they raised their two kids. You can learn more about her at haddixbooks.com.
Praise For…
---
"Haddix realistically portrays Charlie's distress at his parents' addiction and shows how Charlie's identification with his father leaves him nearly incapable of imagining happiness for himself. Ultimately, Marin discovers that her and Charlie's role might not be in changing the past but rerouting the future. VERDICT Gripping, heartfelt, thoughtful and fun, Remarkables will delight readers of both tween realism and time-travel fantasy." — School Library Journal (starred review)
"Blending issues that matter to young adolescents with intrigue and a surprise ending, Haddix proves why she's a master of middle-grade fiction." — Kirkus Reviews
"This well-paced blend of mystery and fantasy will have young fans flipping pages all the way to the epilogue in search of answers. This stand-alone will intrigue her new generation of fans." — Booklist
"The power of family bonds is a strong theme in this novel, and while there's serious introspection on the causes of addiction, the story ends on a reassuring note. The Remarkables may just be a hopeful vision from the future rather than the past, and 'isn't it better to think about working toward a good future than trying to change the past?'" — Bulletin of the Center for Children's Books