Ultraball #1: Lunar Blitz (Hardcover)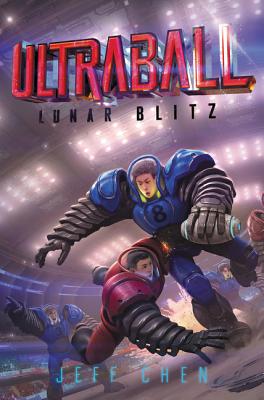 $16.99
Email or call for price.
Description
---
Enter the exhilarating game of Ultraball—fly over pass rushers and explode into slingshot zones—through Jeff Chen's dazzling future world on the moon. Here Ultraball is life, and survival is all that matters. Perfect for sci-fi and sports fans alike.
Strike Sazaki loves defying gravity on the moon in his Ultrabot suit. He's the best quarterback in the league, but while Strike's led the Taiko Miners to the Ultrabowl three years in a row, each one has ended in defeat.
This year, Strike thinks he's finally found the missing piece to his championship quest: a mysterious girl who could be his new star rocketback. But Boom comes from the Dark Siders, a mass of people who left the United Moon Colonies to live in exile. And not all his teammates are happy sharing a field with her.
When rumors surface of a traitor on the Miners, Strike isn't sure who he can trust. If Strike can't get his teammates to cooperate and play together, they'll lose more than just the Ultrabowl. The stake of the colony's future is on his shoulders.
About the Author
---
Jeff Chen is a writer from Seattle, Washington. He also makes crossword puzzles for the New York Times and other major publications. In previous careers, he was a mechanical engineer listed on eight US patents, and then co-founded a pharmaceutical company, Acucela Inc. Ultraball is his debut novel. You can visit Jeff at www.jeffchenwrites.com.
Praise For…
---
"Plenty of twists to keep readers guessing. Every Ultraball game is tightly written with great clarity. This series opener is still an intriguing hybrid of football and sci-fi with plenty of butt jokes." — Kirkus Reviews
"Chen's debut delivers a smart and subtle exploration of socioeconomic inequality. Sf and sports readers alike will enjoy the futuristic dystopia Chen has created. Fans of Mike Lupica, Dan Gutman, and Tim Green looking to get their feet wet in sf should be directed to this series opener."
— Booklist
"Fart jokes and cheesy banter makes this well suited for a middle school audience." — School Library Journal