Wild Rescuers: Guardians of the Taiga (Paperback)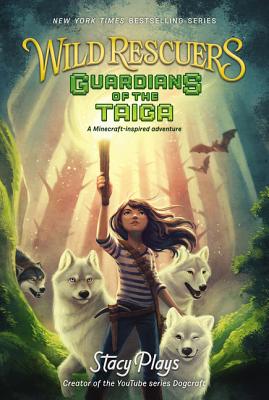 $7.99

Usually Ships in 1-5 Days
Other Books in Series
This is book number 1 in the Wild Rescuers series.
Description
---
New York Times bestseller!
From StacyPlays, creator of the mega-popular YouTube series Dogcraft, comes a thrilling illustrated novel about a girl raised by a pack of wolves and her quest to protect their shared forest home. The first in a new Minecraft-inspired fantasy adventure series! 
Stacy was raised by wolves. She's never needed humans to survive and, from what she sees of humans, they're dangerous and unpredictable. For as long as she can remember, Stacy's pack of six powerful, playful wolves—Addison, Basil, Everest, Noah, Tucker and Wink—have been her only family.  
Together, Stacy's pack patrols the forest to keep other animals safe, relying on her wits and each wolf's unique abilities to accomplish risky rescue missions. But as the forest changes and new dangers begin lurking, are Stacy and the wolves prepared for the perils that await them?
Fans of DanTDM: Trayaurus and the Enchanted Crystal and the Warriors series—plus shows like Ranger Bob—will love this Minecraft-inspired adventure.
About the Author
---
Stacy Hinojosa, better known as StacyPlays on the internet, started playing Minecraft in 2012. She immediately fell in love with telling stories through video games and began posting them to YouTube. Her imaginative building series and fun-filled adventures with her wolf pack earned her a loyal audience of over 1.9 million subscribers. When she's not visiting Minecraft biomes in real life around the world, Stacy splits her time between the mountains of northern Utah and the desert in southern Utah with her two dogs, Page and Molly, and her cats, Milquetoast and Pipsqueak (all rescued by her, of course).
Praise For…
---
"Filled with thunderous action and chilling danger, this first entry in the Wild Rescuers series reads like an episode from Hinojosa's (aka StacyPlays) YouTube series, Dogcraft…. With a fast pace likely to appeal to gamers, this series starter will leave readers anxiously awaiting the next installment." — Booklist
"Readers will quickly find themselves absorbed in the story with its intriguing characters and varied plot threads. This series will appeal to fans of animal fiction and budding environmentalists." — School Library Journal