The Collectors (Paperback)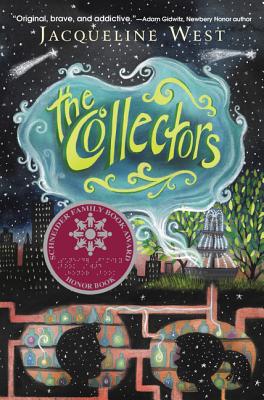 $7.99

Usually Ships in 1-5 Days
Description
---
2019 Schneider Family Book Award Honor Book
"Original, brave, and addictive."—Adam Gidwitz, bestselling author of the Newbery Honor Book The Inquisitor's Tale
Fast-paced, witty, and riveting, this contemporary fantasy adventure has magic woven through every page. The Collectors begins an enchanting two-book series from Jacqueline West, the New York Times–bestselling author of The Books of Elsewhere series. For fans of Serafina and the Black Cloak, The Isle of the Lost, and The Secret Keepers. 
Van has always been an outsider. He's hard of hearing, collects trinkets, and lives with his single mother—an opera singer with a huge personality. Then one day, Van notices a girl stealing pennies from a fountain, and everything changes. He follows the girl, Pebble, and uncovers an underground society full of wishes and the people who collect them. Not all wishes are good and even good wishes often have unintended consequences, and the Collectors have made it their duty to protect us. But they aren't the only ones who have their eyes on the world's wishes—and they may not be the good guys, after all. 
 Jacqueline West spins a story about friendship, magic, and the gray area between good and evil. The Collectors is for fans of Cassie Beasley's Circus Mirandus and Jonathan Auxier's The Night Gardener. Booklist calls it, "A brilliant fantasy adventure exploring the consequences of getting what you wish for."
About the Author
---
Jacqueline West is the author of the New York Times-bestselling middle grade series The Books of Elsewhere, the Schneider Family Book Award Honor Book The Collectors, and several other novels for young readers and teens. An award-winning poet and occasional actress, she lives with her family in Red Wing, Minnesota.
Praise For…
---
"Original, brave, and addictive. West has created creatures cuddly and terrifying and hilarious, and a protagonist you will love. This is a world you're going to want to return to long after the book is done." — Adam Gidwitz, bestselling author of the Newbery Honor book The Inquisitor's Tale 
"The Collectors has the whole package -- a brilliant premise, a compelling hero, and a crackling sense of humor. It's everything a young reader could wish for!" — Jonathan Auxier, New York Times–Bestselling author of The Night Gardener 
"Magic and mystery lurk behind every shadow in this inventive, engrossing, and wonderfully strange adventure. In The Collectors, Jacqueline West gives readers a book to adore." — Anne Ursu, author of The Real Boy
"The Collectors is made out of dangerous and delightful magic."
— William Alexander, award-winning author of A Properly Unhaunted Place
"West captures Van's curiosity and wonder for life, giving his personality an air of innocence…A brilliant fantasy adventure exploring the consequences of getting what you wish for." — ALA Booklist
"West has constructed a fast-paced and engrossing tale of a boy wrestling with the consequences of power and responsibility… Readers may not wish to leave this magical world" — Kirkus Reviews
"A gentle, triumphant reminder that being different doesn't correspond to weakness. First in a planned duology, West's magical adventure offers humor and warmhearted adventure." — Publishers Weekly