Time Castaways #3: The Forbidden Lock (Paperback)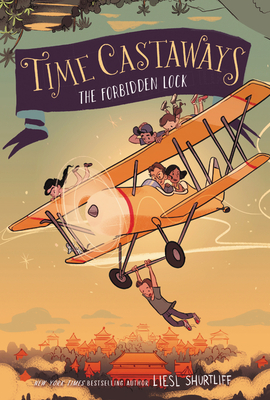 $7.99
Email or call for price.
Other Books in Series
This is book number 3 in the Time Castaways series.
Description
---
In this action-packed conclusion to the Time Castaways series from Liesl Shurtliff, New York Times bestselling author of Rump, it's up to the Hudson kids to defeat Captain Vincent once and for all. With magic, mystery, and adventure, this series is perfect for fans of Escape from Mr. Lemoncello's Library and Percy Jackson.
With the power of the Aeternum, Captain Vincent can rewrite history to create his perfect future. And thanks to Alfred Nobel, the notorious inventor of dynamite, Captain Vincent will soon be able to erase people from time altogether—including those pesky Hudson kids.
Mass chaos unfolds as time periods begin crashing into one another. Central Park becomes a playground for dinosaurs. The Metropolitan Museum of Art is overrun by the very historical figures it features. And the Hudsons begin to disappear, one by one, and Matt finds himself increasingly alone.
But hope comes from an unexpected source: a Vermillion rebel and Hudson ally has been keeping her own timeline a secret. A race to the Forbidden City reveals that Captain Vincent broke the lock on the three pillars of the universe—matter, space, and time—that created order in the world.
Only the Hudson kids are able to mend what he broke…and the key is in Matt's birthplace, Ciudad Perdida, the Lost City of Colombia, where the Hudsons and Captain Vincent face off in the ultimate showdown—a battle for time itself.
About the Author
---
Liesl Shurtliff is the New York Times bestselling author of Rump: The True Tale of Rumpelstiltskin, other books in the (Fairly) True Tales series, and the Time Castaways series, beginning with Time Castaways: The Mona Lisa Key. She was born and raised in Salt Lake City, Utah, the fifth of eight kids. She now lives in Chicago with her husband and four kids, where she writes full-time. Find her online at www.lieslshurtliff.com
Praise For…
---
Praise for Time Castaways #2: The Obsidian Compass: "Tucked into head-spinning plot twists, surprises, and abrupt changes of century and location are thoughts on the nature of time itself that readers may stop to ponder before hurtling on to the next adventure. Exhilarating." — Kirkus Reviews
Praise for Time Castaways #1: The Mona Lisa Key: "Time-traveling pirates, whimsical humor, a sentient ship, and cliffhanger predicaments deliver generous helpings of quirky, retro-tinged entertainment." — Kirkus Reviews
"Third-person narration with memorable characters, an enticing plot, and some cool steampunklike magic will attract readers who love Jen Swann Downey's Ninja Librarians or Brian Farrey's Vengekeep Prophecies. A strong sense of the characters' humanity and interesting time travel paradoxes... A promising series for fantasy adventure fans." — School Library Journal
"Shurtliff's first entry in the Time Castaways series is suspenseful, yet light and often humorous. The rollicking story is filled with intrigue right to the very end." — ALA Booklist
"An engaging page-turner that will serve as an introduction to science fiction and mystery." — Bulletin of the Center for Children's Books
Praise for Rump: "As good as gold." — Kirkus Reviews (starred review)
"Lighthearted and inventive, Rump amusingly expands a classic tale." — Brandon Mull, #1 New York Times bestselling author of Fablehaven
Praise for Red: "Red is the most wonder-filled fairy tale of them all!" — Chris Grabenstein, New York Times bestselling author of Escape from Mr. Limoncello's Library