Stick Dog Craves Candy (Hardcover)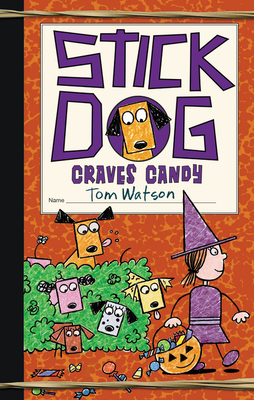 $13.99

Usually Ships in 1-5 Days
Other Books in Series
This is book number 7 in the Stick Dog series.
Description
---
Perfect for fans of Big Nate, Diary of a Wimpy Kid, and the previous Stick Dog books, Tom Watson's hilarious series continues with Stick Dog Craves Candy—a fun Halloween adventure!
Stick Dog and the gang are on their usual hunt for food, but there is something unusual going on. Little humans are dressed up as creepy witches and spooky ghosts, all carrying big orange buckets!
Their search leads them to something unexpected and delicious and sweet—candy! Once they get a taste, they will stop at nothing to get more. The gang will have to avoid terrifying witches and even escape a creepy haunted house! Will Stick Dog's smarts, courage, and patience be enough to lead his buddies to the best treats ever?
Witches, and ghosts, and goblins...and Stick Dog and friends! Oh my!
Other favorites in the series include Stick Dog Wants a Hot Dog, Stick Dog Chases a Pizza, and many more!

About the Author
---
Tom Watson lives in Chicago with his wife, daughter, and son. He also has a dog, as you could probably guess. The dog is a Labrador-Newfoundland mix. Tom says he looks like a Labrador with a bad perm. He wanted to name the dog "Put Your Shirt On" (please don't ask why), but he was outvoted by his family. The dog's name is Shadow. Early in his career Tom worked in politics, including a stint as the chief speechwriter for the governor of Ohio. This experience helped him develop the unique, storytelling narrative style of the Stick Dog books. More important, Tom's time in politics made him realize a very important thing: Kids are way smarter than adults. And it's a lot more fun and rewarding to write stories for them than to write speeches for grown-ups.